One Identity, a proven leader in identity-centric security, announced that it has been named a Leader in the 2021 Gartner Magic Quadrant for Privileged Access Management (PAM).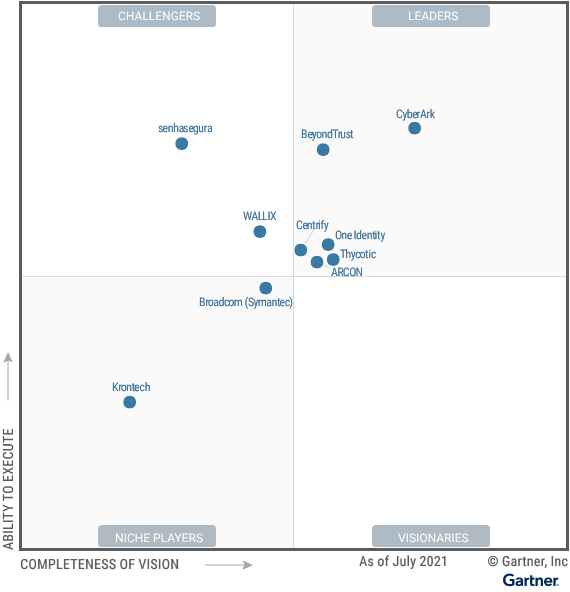 With 70% of breaches being linked to privileged abuse, organizations need a streamlined approach to protecting identities and privileged access.
One Identity's PAM suite is an integral part of the company's Unified Identity-Centric Security Platform, which allows organizations to better manage identity sprawl.
Instead of a fragmented state in which organizations address Privileged Access Management, Identity Governance & Administration, and Active Directory and Azure Active Directory (AD/AAD) Management & Security in a siloed manner, the platform allows customers to unify their approach to protecting the people, applications and data that are most essential to businesses.
To download the 2021 Gartner Magic Quadrant for Privileged Access Management, please visit: https://www.oneidentity.com/whitepaper/one-identity-safeguard-named-a-leader-in-its-2021-gartner-magic-quadra8150463/.
About One Identity:
One Identity, a Quest Software business, helps organizations establish an identity-centric security strategy. With a unique identity and access management (IAM) portfolio, our award-winning offering includes identity governance, AD-centered IAM, privileged access management and identity SaaS solutions, One Identity helps organizations secure their enterprise end to end, smoothly make their digital transformation, eliminate identity challenges and reduce their attack surface from internal and external threats. Our unequalled commitment to our customers' long-term IAM success is evident in our 7,500 customers worldwide that rely on us to manage more than 125 million identities.For more information, visit www.oneidentity.com.
About Gartner Peer Insights:
Gartner Peer Insights is an online platform of ratings and reviews of IT software and services that are written and read by IT professionals and technology decision-makers. The goal is to help IT leaders make more insightful purchase decisions and help technology providers improve their products by receiving objective, unbiased feedback from their customers. Gartner Peer Insights includes more than 215,000 verified reviews in more than 340 markets. For more information, please visit www.gartner.com/reviews/home.