McAfee, the device to cloud cybersecurity company, announced this week that it has been positioned as a Leader in the 2021 Gartner "Magic Quadrant for Endpoint Protection Platforms".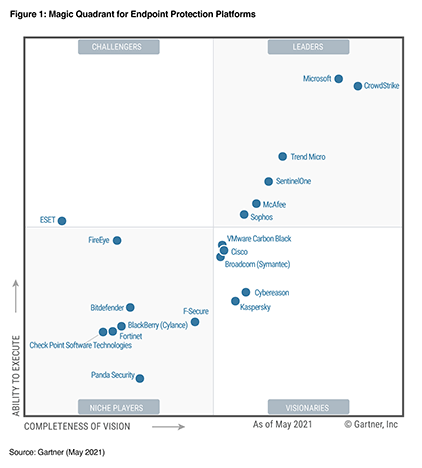 In its latest report, Gartner defines an Endpoint Protection Platform (EPP) as, "Endpoint protection platforms provide the facility to deploy agents or sensors to managed endpoints including PCs, servers and other devices. These are designed to prevent a range of known and unknown malware and threats and to provide protection from such threats; in addition, they provide the ability to investigate and remediate any incidents that evade protection controls."
McAfee offers a full range of solutions that combine powerful endpoint protection with efficient endpoint management
About McAfee:
McAfee is the device-to-cloud cybersecurity company. Inspired by the power of working together, McAfee creates business and consumer solutions that make our world a safer place.
About Gartner Peer Insights:
Gartner Peer Insights is an online platform of ratings and reviews of IT software and services that are written and read by IT professionals and technology decision-makers. The goal is to help IT leaders make more insightful purchase decisions and help technology providers improve their products by receiving objective, unbiased feedback from their customers. Gartner Peer Insights includes more than 215,000 verified reviews in more than 340 markets. For more information, please visit www.gartner.com/reviews/home.